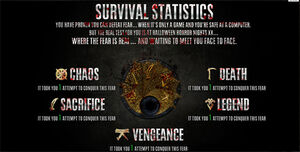 The Warehouse eXXperience was a series of minigames that took place on the sets of five Halloween Horror Nights houses with different objectives for the player. Each of these mini games had elements of various Halloween Horror Nights: Twenty Years of Fear houses, such as a gas-masked surgeon akin to the mascot of Havoc: Dogs of War appearing in "Chaos" and a Spirit Seekers-like camera being used in "Death". So, in that respect, these games were also previews for that events' houses in addition to ultimately giving a preview of Fear.
The player would earn a statuette of each respective Halloween Horror Nights icon (Jack the Clown, The Storyteller, The Director, The Caretaker, and The Usher) to be placed in a circle of slots that would unlock a special video about Fear at the end. Each game had a different objective and would end with a screamer (save for "Legend" where the screen gets blurred by rising water) and a "YOU ARE DEAD" notice if the player lost the game. The website required players to be age 13 and older.
Houses and Objectives
Edit
Website Pictures
Edit
Website Audio
Edit
Audio that played on the opening video for the Warehouse eXXperience and on the death screen (the same audio plays on the survival statistics screen without the buzzing):
Website Videos
Edit
Link to Site
Edit
Community content is available under
CC-BY-SA
unless otherwise noted.