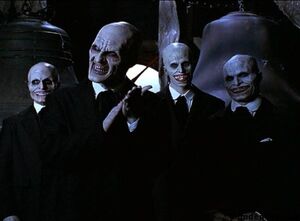 The Gentlemen are characters that appeared in the Body Collectors haunted house franchise. They were inspired by the creature of the same name from a Buffy the Vampire Slayer episode titled "Hush". The creatures serve The Terra Queen (and technically The Storyteller) as well as Bloody Mary and Fear (and arguably Jack the Clown).
The Sumerian God of Fear gave his Heralds the power to create their own beasts- they're all extensions of HIM anyway. As such when writing for her story Terra Cruentus, Elsa Strict decided to create the Body Collectors. In her tale, The Body Men would retrieve the bodies from Blood Abbey and use them to create one of The Terra Tools. Their children would reside The Skool along with the other children of Terra Cruentus.
They returned during Halloween Horror Nights: Sweet 16 to celebrate the 16th anniversary of Halloween Horror Nights.
However it's unknown if they were truly loyal to Fear, as their next two masters contradict the validity of Fear's control. In 2008, Bloody Mary brought guests into her world as it was the 50th anniversary of her mortal transformation. The Body Collectors reside in the Mirror, specifically in the Myths realm. There, they would cover up their murders of Victorian Women (and some men) in the guise of characters such as Sweeney Todd and Jack the Ripper.
Making things more confusing is when they showed up at 2015. Not only were they employed by Jack who denounced what Horror Nights has become and set off to become bigger than The God of Fear, but Jack transported guests to 1800 Shadybrook where it was revealed that Jack and Eddie were babies there, suggesting they were there for a long time.
Appearances at Halloween Horror Nights Orlando
[
edit
|
edit source
]
In 2012 it was revealed that The Gentleman were a part of The Kerezan Legion, most likely due to their relationship with corpses and their corpse-like appearance themselves.
Community content is available under
CC-BY-SA
unless otherwise noted.