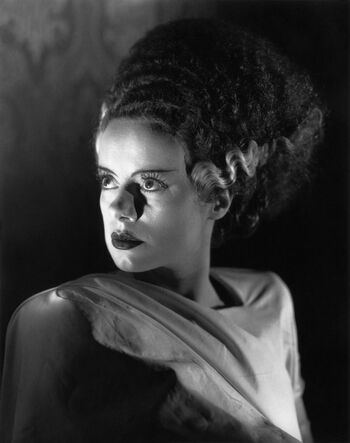 The Bride (best known as The Bride of Frankenstein) is one of the Universal Classic Monsters.
Storyline
[
]
She was a collaborative effort between scientists who should have known better. Frankenstein's Monster felt she could have been a friend; but ironically she was aghast at him. As a result, The Monster destroyed them both in a murder-suicide by destroying Dr. Frankenstein's Castle.
Universal Monsters Universe (Orlando)
[
]
The explosion of Frankenstein's Castle at the end of the Bride of Frankenstein film did not kill the Bride. However, the Monster was crushed under a piece of rubble. Realizing that she actually loved him, the Bride desperately tried to resurrect him. By reading the notes of Dr. Frankenstein, she found various ways to bring the Monster back to life. With the help of her assistant, she successfully captured a group of Dracula's Brides in order to harvest their blood to rejuvenate the Monster. She also kidnapped other "specimens" for experimentation, including Gill-Man.
She also kidnapped Villagers from the town below in order to use their body parts to counteract the decay that the Monster was undergoing. Eventually, the Brides of Dracula escaped and chased her and the Monster to her laboratory. Surrounded by the attacking vampires, the Bride successfully resurrected Frankenstein's Monster by using electricity. Together, the Monster and his Bride killed many of Dracula's Brides and impaled their heads on stakes.
Appearances at Halloween Horror Nights Orlando
[
]
Appearances at Halloween Horror Nights Hollywood
[
]
Pictures
[
]
Trivia
[
]
In 2012 it was revealed that The Bride of Frankenstein was a part of The Maschorian Legion, most likely because of her being resurrected by advanced technology.