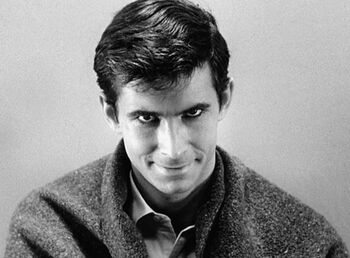 "A boy's best friend is… his mother."
- Norman Bates
Norman Bates is the antagonist of Alfred Hitchcock's 1960 film Psycho and the protagonist of the Psycho film series. He was a recurring character throughout Halloween Horror Nights. He has appeared in his own line of Psycho houses, as well as a few guest appearances elsewhere.
A man with a nice demeanor, if somewhat lacking in social skills. Unfortunately behavior by a dominating mother has driven this man's mind insane- literally. He would have episodes where he would believe that HE was the Mother. He is one of the many monsters under Adaru's command to ensnare terror from guests.
A man with a kind heart, but a insane split personality. Freddy, Jack, Pavel, Jogsaw, and Ghostface welcomed him and his "Mother" for their own events. He still resides; perhaps called by the mysterious forces of darkness.
Halloween Horror Nights Hollywood
[
edit
|
edit source
]
Norman Bates always appears in the Psycho section of the annual Terror Tram. Later years had him relegated to a wait in line photo op.
Appearances at Halloween Horror Nights Orlando
[
edit
|
edit source
]
In 2012 it was revealed that Norman Bates was a part of The Strengoit Legion, most likely because of his ability to lure victims into his motel.
Community content is available under
CC-BY-SA
unless otherwise noted.