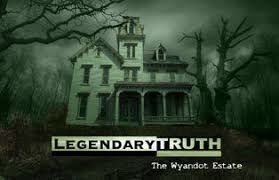 Legendary Truth: Awakening is a viral promotion for Halloween Horror Nights: Twenty Years of Fear and a continuation of the Legendary Truth viral promotion from Halloween Horror Nights: Reflections of Fear.
The termination and disappearance of a trusted Cell Director of the Collective led to a routine search of his office, referred to as an "intellectual sanitization". During the course of the sanitization, the Collective discovered a print out of an e-mail from an anonymous source working in Universal Orlando's Art and Design department, archive photographs from Horror Night's past received from the source, and personal diary notes with personal theories, also mentioning the Universal contact. A transcript of a phone conversation with the employee mentions the Lantern, used in Halloween Horror Nights: Twenty Years of Fear advertising, emphasizing the potential danger of it and claiming that no one can stop it...
Soon after the discovery of the evidence, Legendary Truth opened its investigation, reactivating the Collective website, starting a new Facebook account to recruit new and old Collective members and hacking into the Halloween Horror Nights: Twenty Years of Fear website. Clicking on the lantern and waiting for a few seconds would lead to a message appearing from Legendary Truth, alerting visitors to the looming threat and directing them to their website. Now, there is a special loading screen Easter egg, but the page is already loaded. Even waiting for an hour, or two, the page will still be loading. The Collective has updated their page with the archive photos from the source, linking a man named Albert Caine, the Midway of the Bizarre, Fright Yard, and the Festival of the Dead. Said photos appear to be burnt... The burnt lines in the pictures reveals a portal called Portametus. The portal will release Fear on opening night and is part of the lantern. On September 1, Legendary Truth's facebook page had a Q&A briefing. Recently, the investigation page of the Lantern has gone offline, and it's code is now 202020.
The Legendary Truth is to appear in their own house in Horror Nights 2010. On the night of the investigation, 2 team members were killed, 1 was blinded, 1 was possessed, and an apparition overloaded most of the electronic equipment but a video camera which captured the terrifying events of the night.
Community content is available under
CC-BY-SA
unless otherwise noted.