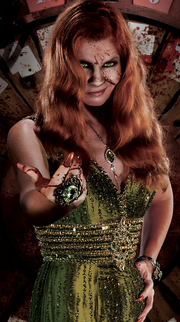 | | | |
| --- | --- | --- |
| " | "I'd like to introduce myself. I bring you choice and fate. I've been with you since time began. When temptation tested faith. I was there when man first tasted fruit served up on golden plate. He had his choice and made it, all I did was wait." | " |
"You seek her… hoping she'll be on your side.  She appears…an enchanting seductress…and you decide to take a chance.

But the more chances you take, the more she craves…you.  Her eyes grow cold.   Her face contorts into...something that is not human.  Her charming laugh turns to rabid growl.  Your luck has run out.  You have made your last choice."
-Press Release
Lady Luck was the icon for Halloween Horror Nights 21. She is a beautiful, seductive, and mysterious woman, but the more chances you take, she slowly morphs into her true form, a twisted monster. She appeared in the scarezone Your Luck Has Run Out.
Lady Luck was the second event icon not to have an "icon house", the other being Fear, although Your Luck Has Run Out can be viewed as being her "icon scarezone".
Backstory
[
]
Lady Luck is a shapeshifting succubus that has been around since man began taking chances. It is believed that the ancient people associated her with Tyche, the Greek goddess of luck, or her Roman counterpart, Fortuna. Apparently, Lady Luck actually causes bad things to happen to whomever gambles with her and loses. Bad things also happen to people if she gives them a choice and they make the wrong one. Just one year before the closing of Shadybrook Rest Home and Sanitarium, a prisoner named Floyd Mercer hung himself, and left behind a notebook full of quotes about luck. It turns out, he was the only known person to ever gamble with Lady Luck, and survive. Floyd witnessed one of his friends Benny, play poker with Lady Luck by his side and he won. Later, Floyd saw Benny being killed by Lady Luck in her true monstrous form and her minions. These minions were her past victims, turned into monsters with spade-shaped scars. He escaped when she saw him. He faked being crazy to get into the asylum and stay alive. Eventually, he realized Lady Luck found out where he was, and hung himself. Since then, Lady Luck had made sure everyone takes an extra gamble. She could also be found in a large dark room with he Roulette Wheel, which she would use to torture victims. In 2015, she appeared along with her fellow Icons as one of Jack the Clown's maniacs in the Icons: HHN scarezone. In 2021, she would appear alongside her fellow icons and have her own section within Fear's Lantern in the HHN Icons: Captured haunted house.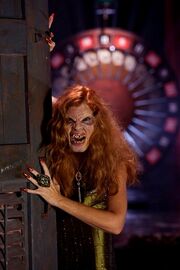 Halloween Horror Nights 21
[
]
| | | |
| --- | --- | --- |
| " | "I was there when Columbus sailed, a rival captain as his mate. A simple coin toss seemed so innocent, then his crew turned to hate. I look for those with fortune made, with every thing to lose - a gamble here, a risky proposition, the chance for more and more. I seek out those with reputation, opportunity knocking at your door. I watched the poet wander, more talent than those who'd come before. I offered him a choice to make and he chose Baltimore. I am there when students cheat, or play instead of learn. 'All work and no fun,' I said. 'Go on and take your turn.' Do you want Utopia? Your goal is up ahead. Roll the dice, pick a card, or take a simple test. The end result is yours alone, whichever one you guessed. Curiosity is motivation for those who have to know. I watched them ponder this and that...and which way to go. But things were not what they seemed beneath the frozen snow. The wealthy young newlywed wanted land to build and I offered to decide. His final choice was a fateful one and cost the groom his bride. The easiest ones are those so vain, that ego guides their way. Offered fame and adulation, the actors always play. | " |
Although she doesn't have a haunted house of her own, Lady Luck plays a key role in each of the haunted houses featured in Halloween Horror Nights 21. In accordance with her modus operandi, she offers each of the main characters a choice:
| | | |
| --- | --- | --- |
| " | "Some find my ways so puzzling, the purpose of my games. But it is so simple really...I am a lady through and through, and Luck is my last name." | " |
Appearances at Halloween Horror Nights Orlando
[
]
Pictures
[
]
Trivia
[
]
In 2012, it was revealed that Lady Luck is a member of the Legions of Horror; a member of The Strengoit Legion, most likely because of her seductive nature.
Patrick Braillard has mentioned that many people think a Lady Luck would be a good source for Luck, well flipping the thought process to whenever anything good happens to you, it's because she is not around but what you don't want is having a Lady Luck smiling down on you.
Actress Sallie Glaner portrayed Lady Luck in the commercials for Halloween Horror Nights 21.