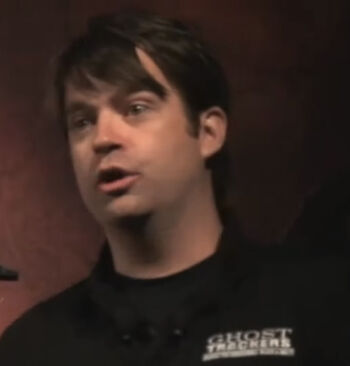 John Michaels was a Ghost Tracker who had been spending years trying to research and solve many of the world's most strangest urban legends, frightening folklores, and twisted tales. One case he tried to uncover was what had happened to his grandfather 50 years ago when he encountered the legendary Bloody Mary. Solving this case was a part of his family heritage for many years leading up to this point. He appeared in the opening scareamony for Halloween Horror Nights: Reflections of Fear.
John had been updating many of his findings in his newly written book and on his website about his journey in solving some of these cases. He was inspired to write about and research many of the ghost stories that he had come upon in his journey because of the case of his missing grandfather. In 1958, his grandfather had a horrifying encounter with Bloody Mary and was never seen again. John believes his research on Mary is completely true and believed he could summon and confront her during one of his promotional tour events. He also believed that Universal was creating dark energy for Mary to gain publicity by feeding her attention. For 18 years the event had produced more fear than anything, and that was just what Mary was looking for and needed to break out of her world.
Universal did it anyway, not knowing that they were giving Mary more power. During John's event, he and his audience of witnesses began to chant Mary's name together in front of mirror on a wall of his stage. Mary answered the call and appeared in the mirror, to the surprise of John and his witnesses. Many thoughts and questions filled the room, amusing Mary who began to shout at John and the witnesses. She broke through the mirror and began reaching towards the witnesses. John's fate fate was left unknown, but what was known was that his research on Bloody Mary was 100% accurate.
Appearance at Halloween Horror Nights Orlando
[
edit
|
edit source
]
Community content is available under
CC-BY-SA
unless otherwise noted.