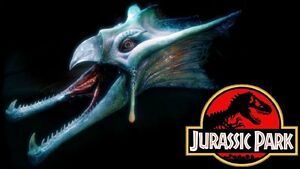 JAWS (opened June 7th, 1990 - closed January 2nd, 2012) was a long-running ride at Universal Studios Florida. Opening with the park on June 7, 1990, the attraction, which was based on the film of the same name, put riders aboard Captain Jake's Amity Boat Tours for what was supposed to be a tour around the island of Amity, however, the supposed tour quickly turned into a life-or-death race against the great white terror of JAWS himself.
it was located in the now defunct Amity section of the park and had been run annually during Halloween Horror Nights Orlando. Not long after the ride opened with the park in 1990, it had to be shut down as a result of major technical problems and underwent a heavy renovation project throughout 1992 with the ride re-opening in Spring of 1993. During the long closure, Universal sued the original designer of the ride, Ride & Show Engineering Inc, and hired Totally Fun Company to re-build most of the attraction. Major scenes which differ between the two versions of the ride are as follows:
Quint's Boat Shack facade in Amity Harbor - Replaced with the Steven's Cannery facade
JAWS pulling the tour boat by 90 degrees before losing his grip - Replaced with JAWS popping up and the Skipper accidentally shooting at and blowing up a Gas Dock.
The Skipper shooting a grenade in JAWS's mouth causing him to explode underwater with gushing blood - Replaced with JAWS biting onto a High Voltage Barrage and being electrocuted, followed by the Skipper shooting one last grenade at him.
Both versions of the ride were directed by Peter N. Alexander, the creative director behind many of Universal's original attractions.
On December 2nd, 2011, it was announced by Universal Orlando that the JAWS ride and the Amity area of the park would officially close on January 2nd, 2012 at 9 P.M.[1] The park acknowledged the removal of the attraction with "JAWS: The Final Voyage" on closing day. The Amity area's replacement, The Wizarding World of Harry Potter: Diagon Alley, opened on July 8, 2014.
Community content is available under
CC-BY-SA
unless otherwise noted.