"Think of the horror film moments that stay with you. The moments that push you back in your theater seat and make you look away. The screams of audience members in a darkened theater. The things you see again at 3 a.m."
"A cold, lifeless hand takes your ticket. You're left with a bone-chilling shiver as you move toward an empty theater seat. The lights dim, voices fade, the film begins. The screen starts to rip apart as the action comes straight for you. The show's about to begin..."
Halloween Horror Nights: Ripped From The Silver Screen (2009)
[
edit
|
edit source
]
Universal announced on June 25, 2009 that the year's event would incorporate characters from the movie franchises, Child's Play (Chucky), Saw (Billy/Jigsaw), and Universal's The Wolfman.
Ripped from the Silver Screen's theme surrounded a mysterious old movie theater, the Universal Palace Theater. The Icon of the event was the appropriately called Usher, or Julian Browning, a mysterious, undead usher who haunts and cares for the theater. The Universal Palace itself seems to be an evil entity-- it "attacks" those who do not show it respect, as Julian warned as he introduced visitors to the website.
September 25-26 2009
October 1-4, 8-11, 15-18, 21-25, & 28-31 2009
Sunday through Thursday ran from 7:00 PM to 12:00 AM
Friday and Saturday ran from 7:00 PM to 2:00 AM
Single Admission: $69.99 + tax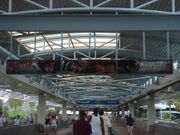 Throughout August, the website showed grainy monochrome images of the theater, while a voice discussed a historical society's attempt to restore it. As time went by, portions of the theater were gradually "filled in"; when a viewer rolled the cursor over the screen, sepia-toned photographs would appear. Reports of the theater's violent history were also released on the site. Each report discussed a different horrific event tied into one of the movies featured, and showed "evidence" from each case:
On August 27th, the site changed. It now featured a CGI introduction of Julian bringing viewers into the theater, fully restored. Small dolls were positioned throughout the theater, and posters linked to each of the Haunted Houses were featured as hotspots. Viewers could interact with these posters by rotating them, revealing that the images were actually the creatures featured on the screen. Information regarding events and Scarezones was also posted on the 27th.
August 27, 2009 MODERN HORROR FILMS COME ALIVE AT UNIVERSAL ORLANDO'S HALLOWEEN HORROR NIGHTS
For the First Time Ever, Universal Orlando Dedicates its Entire Event to Mega-Horror Films
SAW, The Wolfman, Chucky and More Are "Ripped from the Silver Screen" at The Country's Best Halloween Event
ORLANDO, Fla. (August 27, 2009) – For the first time ever, Universal Orlando is devoting its entire Halloween Horror Nights event to bringing horror films to life.  All eight haunted houses, all six scare-zones and two live shows will be directly inspired by some of today's most popular horror films.
In another first, guests will experience three powerful mega-horror film concepts live and in-person before seeing them on-screen: "SAW," the legendary horror series from Lionsgate® and Twisted Pictures, due in theaters with its newest release of "SAW VI" this October; "The Wolfman" from Universal Pictures, in theaters February 2010; and "Cirque Du Freak: The Vampire's Assistant," also from Universal Pictures, due in theaters October 2009. There will be two additional houses inspired by cult horror films. 
"Our guests are going to feel as if their favorite horror films have left the screen and surrounded them," said Jim Timon, senior vice president of entertainment for Universal Orlando Resort. "They will come face to face with many of the most disturbing characters in film history. When they leave Halloween Horror Nights, they'll wish their experience was just a movie."
The terrifying world of "SAW" – one of the most profitable horror franchises to date – will be transformed into a haunted house featuring iconic scenes from the films such as Jigsaw's lair and the tomb-like bathroom.  Guests will come face to face with Jigsaw and also watch as his victims struggle to try and win at his game.
Before guests can see the "The Wolfman" on-screen, they will be able to live its horror.  In this house they will walk through scenes from the film, joining "The Wolfman's" alter-ego Lawrence Talbot as he discovers a primal side of himself he didn't know existed.
A world where toys go bad is brought to life in a haunted house inspired by the "Chucky" films. Guests will experience a funhouse lead by the sadistic doll where favorite children's toys aren't what they seem.
This year's Halloween Horror Nights will also include dramatic new interpretations of Universal Pictures' famed Frankenstein and Dracula.  Both will be featured in their own houses and both will be more horrifying and intense than ever before.
In the Silver Screams haunted house – based on a demented movie theater run by a supernatural usher – guests will experience "Shaun of the Dead," Universal Pictures' "The Phantom of the Opera," Lionsgate®'s "My Bloody Valentine 3D" and more.
Two live shows inspired by popular films return this year – the entertaining "Bill and Ted's Excellent Halloween Adventure" and "The Rocky Horror Picture Show: A Tribute."
Halloween Horror Nights runs September 25-26, October 1-4, 8-11, 15-18, 21-25 and 28-31.
Silver screen totally inspires Horror Nights
[
edit
|
edit source
]
Coming soon August 27, 2009|By Dewayne Bevil, Sentinel Staff Writer
For the first time in its 19-year history, Halloween Horror Nights will be completely devoted to scary movies, Universal Studios theme park will announce today. All eight haunted houses and each of its six scare zones -- home to terrifying street performers -- are inspired by big-screen thrillers.

"We're turning the front gate into the facade of the Universal Palace Theater. There will be a box office, there will be a movie screen showing trailers," said Michael Roddy, show director for Universal Orlando Entertainment. "And then once you walk in, all these environments, all these movies are ripped from the silver screen and come to life." As announced in June, three contemporary movie characters will be featured. Jigsaw (from the Saw series), Chucky (Child's Play) and the Wolfman (from a film set to open in February) will be set up in their own houses
. Saw producer Oren Koules, who lives in Tampa, said he looks forward to the after-hours event, which runs for 23 select nights beginning Sept. 25. Koules said that having people experience the Saw films live -- "not just on the screen, but to have people walk through it, taste it, touch it and feel it -- is amazing for us." Saw VI debuts Oct. 23. The movies, which each have been released near Halloween, are graphic, violent, mind-game-driven films filled with traps. The Saw house at Horror Nights is designed to be intense, Roddy said. Guests will be the ones being tested, he said. "As they progress farther into the maze, every step they take is causing and affecting the traps to be sprung."
Two houses will be devoted to Dracula and Dr. Frankenstein's monster. Two others are inspired by B movies based on a Midwestern, chainsaw-wielding family and "cannibalistic humanoid underground dwellers," Roddy said. The eighth house will highlight several horror films including Shaun of the Dead and The Phantom of the Opera. The scare zones will spotlight corpses reanimated into super-soldiers, a toxic green mist, a chainsaw drill team, an abandoned drive-in theater and half-human, half-beasts. One zone will be devoted to Cirque Du Freak: The Vampire's Assistant, a Universal Pictures film also set to open Oct. 23. Two stage shows return: "Bill & Ted's Excellent Halloween Adventure" and "The Rocky Horror Picture Show: A Tribute.
Halloween Horror Nights: Ripped From the Silver Screen Merchandise and Collectables
[
edit
|
edit source
]
According to this, throughout the park, were clips playing from Nightmare Alley.
Also, the Pumpkin Patch lightning was the same effect as the broken mirror from the year before.
Hollywood Rip Ride Rockit was originally planned to run during the event, but was cancelled due to lack of nets installed underneath the coaster between the soundstage entrances.
Community content is available under
CC-BY-SA
unless otherwise noted.