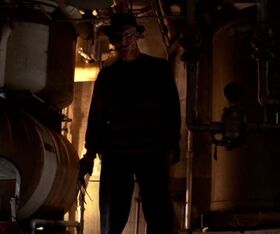 Frederick Charles Krueger (best known as Freddy Krueger) is a monster of pure evil and one of Jack the Clown's underlings. He served as one of the three sub-icons for Halloween Horror Nights: Carnival of Carnage and was the main icon of Live Your Worst Nightmare. He originated from the A Nightmare on Elm Street film series.
Jack's Carnival of Carnage
[
edit
|
edit source
]
A man who is steeped deep into darkness internally, was burned alive by the parents of the children he murdered. This would come back to literally haunt them, as Freddy resided in a realm of sleep. He would use its warping powers to kill children in their dreams which would kill them in real life. As part of Adaru's plot, Ringmaster Jack chose him a one of the main attractions for his traveling carnival.
A man who was given freedom to murder children in their sleep ironically due to retribution. He once was a part of the Carnival helmed by a mental patient. The following year, he himself dragged Universal Studios Hollywood into some sort of "living dream" status where he and his nightmare minions went loose on the backlot. The mysterious dark energy allowed him to come back in following years.
Universal Studios Hollywood (only in 2008 where he trapped it in living dream status)
Freddy was shown in most promotional materials for Jack's Carnival and had a house of his own named A Nightmare on Elm Street: Dreamwalkers in 2007. His makeup and sweater from the TV ad were shown in the museum in the Secrets of the Sideshow tour. Clips from his films could be found on the lagoon globes.
Appearances at Halloween Horror Nights Orlando
[
edit
|
edit source
]
Appearances at Halloween Horror Nights Hollywood
[
edit
|
edit source
]
Appearances at Halloween Horror Nights Japan
[
edit
|
edit source
]
A Nightmare on Elm Street: Never Sleep Again saw the only use of remake Freddy at Halloween Horror Nights, whereas every other one is based on the original.
In Hollywood, John Murdy played the voice of Freddy Krueger every time Freddy officially appeared at that event[1].
Community content is available under
CC-BY-SA
unless otherwise noted.