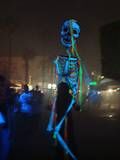 Esqueleto Muerte was one of the six scarezones that were featured during Halloween Horror Nights: Twenty Years of Fear. It was located in the Plaza of the Stars.
For their 2010 Halloween event, Universal decided to have a scarezone based on the Day of the Dead celebration. The scarezone would be called Esqueleto Muerte and would feature many colorful neon skeleton props and scareactors.
The scarezone would be located in an area called Plaza of the Stars. The area is a street located in front of the park entrance.
Revel in the seductive taunts of Death as you wind through a glowing skeletal nightmare!
Esqueleto Muerte was supposed to be a Day of the Dead party gone wrong, in which the skeleton statues have come to life.
Esqueleto Muerte in English means Dead Skeleton.
Community content is available under
CC-BY-SA
unless otherwise noted.