"
More Mayhem! Devour Them!
"
~ Count Dracula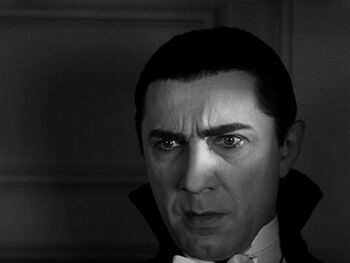 Count Dracula (best known as Dracula) is a Universal Monster and one the most powerful vampires throughout Halloween Horror Nights. He and the other Universal Monsters were the very first Event Icons in Halloween Horror Nights history during Fright Nights.
A vampire who stands out as one of the most powerful and ancient. His origins are a mystery, he might have been a young warrior who impaled his enemies on stakes. He resides on a luxurious Castle In Transylvania where he terrorizes the countryside.
Once murdered by Van Helsing when the latter was the right hand of God, he made a pact with the Devil so he could not really "die". The Devil revived him as vampire and gave him wings to come and go from his icy fortress. There was a catch however, he could not feel love. He was made a part of Pavel Pranevsky's film, his fortress was used to house a cavalcade of villains from various horror movies.
Hollywood (subsequent years)
[
edit
|
edit source
]
He is a very powerful Vampire. He once was brought back along his fellow monsters for Jack's Carnival and Freddy's Nightmare version of the theme park and was subsequently brought back by the forces Darkness in later years.
Almost every Dracula that appeared during Halloween Horror Nights was based on the likeness of Bela Lugosi's performance from Dracula (1931).
He makes frequent appearances in Orlando, but barely makes appearances in Hollywood, and has not appeared in either Japan or Singapore.
He was the very first icon at Halloween Horror Nights alongside his fellow Monsters. He appeared at the Dungeon of Terror.
Technically, the Richard Roxburgh Dracula appeared in Universal's House of Horrors (Hollywood) in 2006, and the whole setting was that of his icy fortress that year.
There is another version of this character, known as Vlad Tepes, who appeared in the film Dracula Untold. He appeared in the Dracula Untold house/maze in Orlando and Hollywood in 2014.
Appearances at Halloween Horror Nights Orlando
[
edit
|
edit source
]
 Appearances at Halloween Horror Nights Hollywood
[
edit
|
edit source
]
In 2012 it was revealed that Count Dracula was a part of The Strengoit Legion, most likely because of his hypnotic abilities and his status as a (and possibly the first ever) vampire.
Due to legal issues with the Lugosi family, Universal could not use Bela Lugosi's likeness as Dracula for the Fright Nights logo.
Community content is available under
CC-BY-SA
unless otherwise noted.